Skip Navigation
Website Accessibility
212 S. 4th St. • Cañon City, CO.

Family Owned and Operated
Authorized and Certified Dealer for


Baby Lock & Janome
Sewing & Embroidery Machines
"Your Hometown Sewing Store since 2012"



FREE SHIPPING on FABRIC OVER $60*




Contact Us / Hours / Directions
Baby Lock Gallant Long Arm Quilting Machine with 8-Foot Villa Frame
Quantity:
Notes:

If we do not have the full amount that you ordered of this item:
UPC:
098612076353
Manufacturer #:
BLGT15A
Sku:
561063

Add to Cart

or call: (719) 285-8088
Machines typically ship between 3-5 business days.
You started your quilt, and now you can finish it with the Baby Lock Gallant. Packed full of features, the Gallant is just what you need to complete any quilting project.

The Baby Lock Gallant longarm quilting machine features include:

15" Creative workspace
1,800 Stitches per minute
Large "M" Class Bobbin
Stitch Regulation

Machine Specifications
• Front handlebars with color display
• Simple icon-based display
• 1,800 stitches per minute
• LED light ring
• Two modes of stitch regulation:
Precision and Cruise
• High-speed rotary hook with large capacity
M-class bobbin
• Manual thread tension control
• Consistent stitch formation from 4–18
stitches per inch
• Needle-stop positioning control
• Easy software updates

Frame Specifications
• 8-foot free-standing frame
• Ratcheted pole ends hold quilt firmly for perfect stitching
• Height-adjustable table can be customized for the quilter
• Easy-assembly professional-grade system made of high quality, powder-coated steel
• Leveling feet adjust to floor surfaces
• Choose between High or Low loading modes

Included Accessories
• Quarter-inch ruler foot
• Open toe foot
• Bobbin winder
• Front handlebars
• Frame leader set and two side clamps
• Quick Reference Card
• Instruction & Reference Guide
• Five Bobbins
• Hex keys (2.5mm, 3.0mm, 4mm)
• Needle threader

Optional Accessories
• Gallant Ruler Base (BLGT15-RB)
• 2-foot Frame Extension (BLGTF-EXT)
• Rear handlebars & laser (BLGT15-RH)
• Quilt Frame Tabletop (BLGTF-BT)
• Glide Foot (BLQ-GF2)
• Creative Couching Foot Set (BLQ-CCF)
• Ruler and Echo Foot Set (BLQ-REFS)
• Baby Lock Light Bar (BLQ-LIGHT10)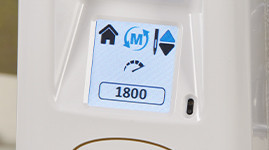 1,800 Stitches Per Minute
The Gallant is built for speed! Sewing at 1,800 SPM and consistent 4-18 stitches per inch, your quilt will be done before you know it.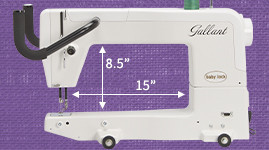 Large Workspace
Enjoy creative freedom with 15 inches of workspace and 8.5 inches of height on the Gallant.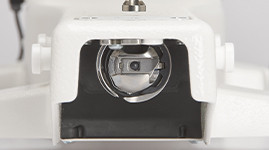 M-Class Bobbin
You'll need fewer bobbin changes with the high-speed rotary hook and large-capacity M-class bobbin.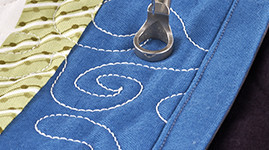 Stitch Regulation
Quilt your way to beautiful results with built in stitch regulation including two modes for cruise and precision.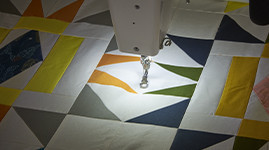 LED Lighting
The convenient LED light ring makes it easy to see and keep your quilts on track.
Villa Frame
The Gallant comes with the height-adjustable 8-foot Villa frame, with an optional extension to give you more space to finish larger quilts.
".